Home

/

Australian Age of Dinosaurs | Family Visits
FAMILY VISITS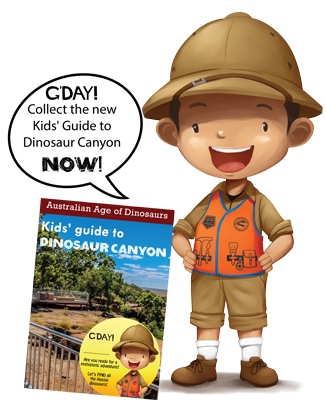 A KID-FRIENDLY EXPERIENCE
Kids love dinosaurs and we love kids! These are some tips and ideas for making sure that your family visit is a great experience.
During the

school holidays

children visiting the Museum will receive a Museum Field Guide to complete during their visit.

Play some puzzles and games in the Laboratory Waiting Room and make your very own Pressed Penny Dinosaur!

While enjoying a coffee at our café, get your kids to answer the age old question "What is your favourite dinosaur?" They can then draw it on the Reception Centre chalk board.

The Museum site is the perfect place to practise photography skills as there are many birds, insects, animals and plants plus interesting buildings and rock formations - plus the dinosaur fossils, of course.

Need some space for the kids to run around? Bring a frisbee, pack a picnic and explore the Deep Gully Track. The track takes about 45 minutes to traverse and includes some rugged terrain.

Help us keep our dinosaur fossils safe. While our guides will give everyone opportunities to touch selected fossils and some other items, Australian Age of Dinosaurs is a museum and our collection objects are unique, fragile and valuable. Have a chat with your kids prior to your arrival about touching Museum objects with care.

The Museum consists of three buildings and some walking may be required. The 500-metre walk between the Reception Centre and the Laboratory is not paved, but is flat and relatively easy to navigate with a pram or stroller. If in doubt, ask our staff for advice. Also, please ensure everyone in your family stays on the path, keeping well away from the edge of mesa.

Change tables are available at the Reception Centre and Dinosaur Canyon toilets.

Baby strollers (up to 15kg) are available at Dinosaur Canyon, please ask your guide when you arrive. Note: due to limited availability, we recommend you bring your own pram or stroller.
MUSEUM AUDIO GUIDE
Prepare for your Museum visit with the Museum Audio Guide and make your experience
even more interesting...
The app includes information on the Fossil Preparation Laboratory, Collection Room and Dinosaur Canyon as well as behind-the-scenes audio and an array of information about Australian dinosaurs.
Head phones will be available at the Reception Centre or Dinosaur Canyon Outpost upon arrival by gold coin donation.
HOW TO USE THE MUSEUM AUDIO GUIDE
1. download the "IZI TRAVEL" app by going to http://izitravel/app
2. Select audio guides and search for Australian Age of Dinosaurs (for best results download the app ahead of time in case of internet issues).