Home

/

Australian Age of Dinosaurs | Dig-A-Dino
DIG-A-DINO EXPERIENCE
Help us find dinosaurs in Outback Queensland!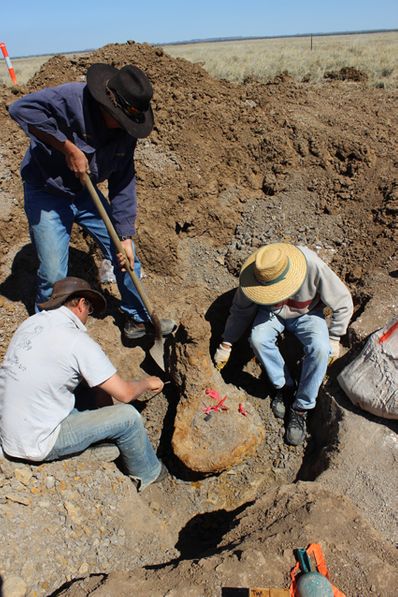 Digs are fully catered and participants enjoy excellent home-cooked meals, including hot breakfasts and scrumptious morning and afternoon tea breaks.
The twin-share rooms are clean and comfortable. Accommodation facilities include flushing toilets, showers and a washing machine. This is a comfortable Outback experience.
A day as a dinosaur dig team member can be as full-on or as casual as you like. The Australian Age of Dinosaurs team will explain everything you need to know, including how to differentiate bones from rocks, and be available to answer questions and provide guidance. Just pick your spot, on your own or with fellow diggers, and start looking for fossils. Be the first to see dinosaurs emerge again after 95 million years! Fossil material found to date includes massive sauropod bones, teeth, smaller bones from crocodiles and flying reptiles, plant fossils and more. You can also have a go at plastering the specimen you have dug out and get it ready for the trip to the Museum's Fossil Preparation Laboratory.
At the end of a perfect day, relax with your fellow diggers and "duggers" (those who have been on a dig before) and talk about the day's finds. After a delicious dinner retire to a comfortable bed and dream of the big discoveries you and your team might make tomorrow.
Midway through the week, enjoy an excursion to the Museum's working Laboratory and see first-hand what will happen to your finds in the future. You can help prepare specimens by cleaning the rock off to make them ready for scientific study and display. A guided tour of the Museum site, known as The Jump-Up, follows with a picnic lunch, spectacular views and nature walks. Then it's back to the dig site to soak up another glorious sunset, have a hot shower and join everyone once again for happy hour. Need we mention the atmosphere and beauty of the vast western Queensland starlit sky? Another treat.
---
Package options (Dig-A-Dino experience)
| | |
| --- | --- |
| Dig-A-Dino packages for new Museum Diggers | Prices from |
| Solo Digger package | $3,700ea |
| Twin Digger package (minimum two people) | $3,145ea |
| | |
| --- | --- |
| Dig-A-Dino packages for previous Museum Duggers | Prices from |
| Solo Dugger package | $3,200ea |
| Twin Dugger package (minimum two people) | $2,720ea |

WHAT'S INCLUDED

Eight-day experience ex-Winton; five or six days of dinosaur digging; six nights on site
Australian Age of Dinosaurs Museum and palaeontology staff will be in attendance
A day trip to the Australian Age of Dinosaurs Laboratory, Collection Room and Dinosaur Canyon
An optional day trip to Dinosaur Stampede National Monument at Lark Quarry Conservation Park
All meals, including welcome dinner the night before the dig commences
Pre-dinner drinks each evening
Catered morning and afternoon tea breaks
Transport from Winton to dig site and return, if required
DATES

2023: 27 August to 3 September 2023

2023: 3 to 10 September 2023

2024: 5 to 12 May 2024

2024: 12 to 19 May 2024
HEALTH
This experience requires good health and physical fitness. The digs can be anywhere from 60–80km from medical assistance.
OTHER INFORMATION

All participants must be 18 years old or over. This experience requires patience, a good eye and steady hands. No palaeontological experience needed.